R. Kelly Faces Life Imprisonment in a Sex Trafficking Scandal.
By Diana Wambui
(dianangotho17@gmail.com)
Thumbnail Photo Courtesy of unilad.co.uk
RNB star Robert Sylvester Kelly has been found guilty of sexual exploitation and sexual violation by a federal jury in Brooklyn, New York. The 54-year-old faces a minimum of 10 years in prison after three decades long of numerous allegations of misconduct with young women and children.
In the federal court, the jury found him guilty of all nine counts; one count of Racketeering and eight counts of violating the Mann Act. Racketeering is organized crime in which a group will extort, coerce or otherwise develop some type of scheme that will allow them to collect money repeatedly over a period of time.
The Mann Act is a 1910 law that made it illegal to transport any woman or girl across state lines for immoral purposes in the USA.
Of the 14 underlying offences of Racketeering, prosecutors had proven all but two of them thus he was convicted of the charge. He needed to be found guilty of at least two to be convicted of that count.
The Racketeer Influenced and Corrupt Organizations(RICO) statue was passed in 1970 in an effort to fight organized crime, carries a significant charge of 20 years. Prosecutors used the RICO case which can go back 10 years in proving some of the charges against him.
A jury of seven men and five women found him guilty of violating the Mann Act, a sex trafficking law, by transporting girls to his location using his entourage of bodyguards, employees and managers. According to witnesses who consisted of former associates and multiple accusers, this was done routinely.
Attorney Gloria Allred admitted to the press that Kelly was the worst predator she had ever come across. She represented three of the six victims testified at the trial
"Of all the predators I have pursued, Mr Kelly is the worst for many reasons: targeting them, recruiting them, isolating them from their friends and family, forcing them to follow his abusive rules in order to control them, punishing them if they didn't follow his rules to the letter, hitting them and threatening them, giving many of them genital herpes."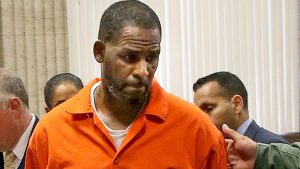 The legal expert Michael Bachner said in an interview with NBC that the Jury deliberations were very short due to the defendants' inability to prove every victim a liar. The jury's verdict took only nine hours over two days.
"It's not just one person coming forward, it's a multitude of victims coming forward. And it causes the defense to have to try and argue that everybody's a liar. And juries just routinely do not accept that defense," Bachner said.
One of the final witnesses in the testimony, focused on Aaliyah, a famous singer who died in 2001 after a plane crash at age 22. R Kelly had produced her 1994 debut album, "Age Ain't Nothing But A Number." The witnesses claimed that she was abused around 1993, when she was just 13 or 14 years old.
There were also testimonies about fraudulent marriage schemes hatched to protect Kelly after he feared he had impregnated Aaliyah.
R Kelly is awaiting his sentence on May 4 and faces up to 20 years in prison. He also has pleaded not guilty to sex-related charges in Illinois and Minnesota.
Trial dates in those cases have yet to be set. He had been acquitted before in Chicago following a child pornography case in 2008.