Donovan Mitchell's insane 71 points help the Cavs beat the Bulls
By Ken Andrew
kennyandrewmuganda@gmail.com
Donovan Mitchell set a franchise record of 71 points in a game as the Cleveland Cavaliers beat the Chicago Bulls in Monday's NBA action. The points helped the Cavs rally from 21 points down to win 145-134 in Overtime.
Cleveland Cavaliers on Twitter
The 71 points are the highest recorded in an NBA game in 17 years, with Kobe Bryant getting 81 in 2006.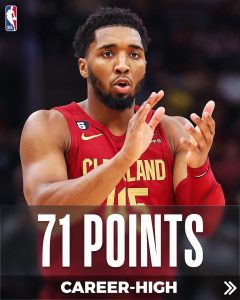 Mitchell was humbled to made history and to be included amongst the greats.
"To be there in the record book with guys like Wilt is truly humbling. I always believed I could be one of the best players in the league. I'm speechless and blessed to be in the company of that greatness."

– The Guardian
Mitchell was not the only high scoring player in the last round of NBA though. Klay Thompson (54), Lebron James (43), Joel Embiid (42) and Luka Doncic (39), led their franchises to wins. Lebron's points helped him edge closer to Kareem Abdul-Jabbar's all time scoring record of 38387. He is only 500 points away.
Donovan Mitchell joins an exclusive list of players to record 70+ points in an NBA game.
NBA players to score 70+ a game
Wilt Chamberlain – 6 times
Kobe Bryant
David Thompson
Elgin Baylor
David Robinson
Devin Booker
Donovan Mitchell