Top 5 Anime's to look out for in 2023
By Ken Andrew
kennyandrewmuganda@gmail.com
2022 was an amazing year for anime fans with some classics finally getting adapted. Bleach Thousand Year Blood War, Chainsaw Man and Bluelock stole the spotlight from other shows and were hugely popular at the end of the year.
Following a successful 2022, here is what there is to look out for in 2023.
5. Solo Leveling finally gets an anime adaptation.
Solo Leveling is one of the most awaited animes of 2023 after it was announced that it would get animated by A-1 Pictures this year. The anime could possibly drop in mid march. The exiting Korean manga has been earmarked for an anime for a while with fans loving the manga content.
4. Bluelock Cour 2 (Second selection arc) drops.
The effect Bluelock had across the world was immense as some of its scenes were likened to happenings at the World Cup. Fans will witness the continuation of Isagi Yoichi's journey to be the best striker in the world when the Second selection Arc starts on January 7th 2023.
3. Attack on Titan the final season part 3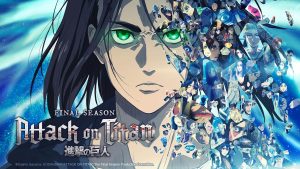 After a highly rated final season part 2 dropped in early 2022, the finale of Attack on Titan will drop in 2023. Eren Yeager's journey will continue in the final part of Attack on Titan. The New Gen Anime is one of the most popular across the world.
2. Conclusion of the Wano Arc and Luffy Gear 5 reveal
One Piece fans will finally get to watch the final fights in Onigashima of the Wano Arc. Luffy's fight with Kaido, Zoro and Sanji taking on Kaido's commanders, the conclusion of the Arc will have it all. Fans will also possibly witness Luffy's latest gear as he fights Kaido.
1. Bleach Thousand Year Blood War Cour 2
Fans had to wait 10 years for Bleach to return but will only wait 7 months for Part two of Thousand year Blood war to drop. Following its succesful return, there is great optimism for Cour two . With creator Tite Kubo promising better animation and more anime exclusive content, fans cannot wait to see what's in store.