Kenya Tops Medal Table at World Under 20 Championships
By Nicholas Kweyu
Thumbnail Photo Courtesy of Frederick Omondi.
Having played host to the 2021 World Athletics Championships over the past week, Kenyan athletes took advantage of their home and emerged as the top country. They held 16 medals in total (8 gold, 1 silver, and 7 bronze). Finland emerged second with 5 medals (4 gold and 1 silver) and Nigeria was third with 7 medals (4 gold and 3 bronze). Let us take a look back over the 5 days in which the championships ran to see how Kenya managed to achieve this.
Sunday 22nd August
On the final day of the championships, Emmanuel Wanyonyi won the gold medal. He set the championship record in the men's 800m with a time of 1:43.76. Our own Noah Kibet secured a bronze medal in this race while Algeria's Mohammed Ali Gouaned took the silver.
Purity Chepkirui earned Kenya's seventh gold medal in the women's 1500m final on the same day. She narrowly beat Ethiopia's Diribe Welteji in the last 50m and clocked a time of 4:16.07. Chepkirui expressed her joy at beating the experienced Ethiopian who is fresh from the recently concluded Tokyo Olympics.
"This was my first time to represent Kenya and I am happy. Going up against an experienced runner in the Ethiopian, who is the defending champion, I knew I had to get my finishing kick right and it took everything in me to win," she said.
Chemutai's compatriot Winnie Jemutai also performed commendably earning a bronze medal despite having planned for a 1-2 finish for Kenya.
Kenya also dominated the men's 3000m steeplechase with another gold and bronze combo. Amos Serem won the race in 8:30.72 while his teammate Simon Kiprop came in third with a time of 8:34.79. They were again split by an Ethiopian, Tadese Takele who finished second in 8:33.15.
The Kenyan quartet (Joshua Wanyonyi), Elkanah Kiprotich, Kennedy Kimeu, and Peter Kithome) won a bronze medal in the men's 4x400m relay final with a time of 3:05.94. They came in behind Botswana and Jamaica in this very last race of the championships.
Saturday 21st August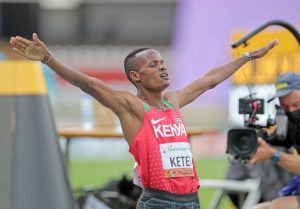 The fifth gold medal was earned by Vincent Keter in the men's 1500m. With a time of 3:37.24, he blazed through the final lap to win the race. It would have been yet another Kenyan gold and bronze combo but Kamar Etyang was disqualified for lane infringement despite finishing third. Ethiopians Wegene Addisu and Melkeneh Azize, therefore, finished in second and third positions respectively.
"I am really happy with the gold medal today. We had talked with Etyang and we had agreed to work as a team and then the best man to win. It is a good day for Kenya. I had a small injury in the middle of the race but I am thankful to God that I have made it," said Keter.
Earlier that same day, Herringtone Wanyonyi won Kenya's very first 10km race walk gold medal. He finished with a time of 42:10.84 ahead of Amit from India and Paul McGrath from Spain. He previously ran the 10000m race but was made to change to race walk by his former primary school teacher Wesley Korir.
Friday 20th August
With a personal best time of 9:27.4, Jackline Chepkoech clinched the gold in the women's 3,000m steeplechase on. Kenya attained a bronze medal again with Faith Cherotich coming in third while Ethiopia's Zerfe Wondemagegn won the silver.
Thursday 19th August
Japan-based Teresia Muthoni blazed through the women's 400m to clinch Kenya's second gold medal in a time of 8:59.78. Her fellow Kenyan, Zena Jemutai won the silver awarding Kenya a 1-2 finish. Ethiopia's Melknat Wudu came in third.
The very first Kenyan gold medal in these championships was won by Benson Kiplangat in the men's 5000m. In a personal best time of 13:20.37, he beat Ethiopia's Tadese Worku who had won the men's 3000m the previous day. Kiplangat said that he was happy and surprised to have won the race as he had not expected to even get a medal. He was ultimately proud to have done so. This race also saw the first Kenyan gold and bronze combo in the championships with Levy Kibet coming in third and winning Kenya's first bronze medal.
Wednesday 18th August
Kenya was off to a rocky start on the first day of the championships earning no medals at all. They suffered a crushing defeat in the men's 3000m with representatives Daniel Kinyanjui and Bernard Yegon coming in seventh and ninth places respectively.
It is amazing and exciting that Kenya was able to move from a rather disappointing start to such a marvelous finish in these championships.