Daystar Students Elect DUSA Congress Representatives
By Lewis Njeri
The DUSA congress elections were held on Wednesday 6 April 2022 in Athi River Campus at the PAC and Nairobi Campus outside the DAC.
The elections exercise kicked off as from 8:40am to 5:00pm at the Athi river campus.
A student ID was required for students to participate in the exercise and only students who are in session for the January semester were allowed to vote. This was a challenge considering the ECD had a list that only had students registered for this semester and some who wanted to vote did not find their names on the list form the University Registrar.
During an interview with the Electoral Commission of Daystar (ECD) Chief Executive Officer Peter Sidika had the following to say; "The election process started off very well with a good turn up to exercise the voting right including students who have completed their hours but not yet graduated, in addition students are supposed to vote from their various campuses in order to avoid students voting twice."
He went ahead to add that the rule of having only students registered for January semester voting was equivalent to the one where the Independent Electoral and Boundaries Commission (IEBC) , uses where they only need Kenyans registered as voters to vote. Students were allowed to vote from their respective campuses to avoid confusion.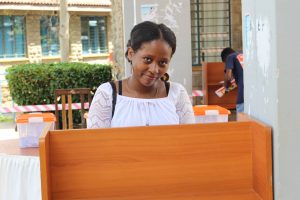 The turn out from students in different schools was in large numbers.
According to Immaculate Chebet, the Vice chairperson ECD said that the voter turnout was good. "Students started coming to vote as soon as they finished classes with others turning up as early as from 8:40 am. The counting will take place in the presence of all ECD officials and each aspirant having their representatives then results will be approved after counting,'' said Immaculate.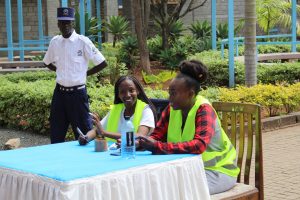 Counting of votes  for Athi river campus was done at the senate room as from 5:00pm. Students and representatives of the aspirants were present to assure the aspirants the counting was fair.
The counting process was done at DAC  in Nairobi Campus.
Speaking to a sample of 15 random students, Involvement Newspaper gathered the following, 3 students stated they would not participate in the election process since they felt there were no competent leaders, and their preferred candidates did not make it past the vetting level. The remaining 12 said they had fully participated in the voting process.
The DUSA council elections will be held on 7 April at the Nairobi Campus. The elected Congress members will elect the DUSA council, with results being announced on the same day.