Charles Leclerc Dominates The Australian Grand Prix
By Joy Miano
Joymiano180333@daystar.ac.ke
Ferrari's Charles Leclerc effortlessly won the Australian Grand Prix in Melbourne as he led from lights out to the chequered flag. Aside from that, he set the time for the fastest lap and he is the only driver who has been on podium for every race this season . Sergio Perez finished second, 20 seconds behind the winner with George Russell taking the final podium place.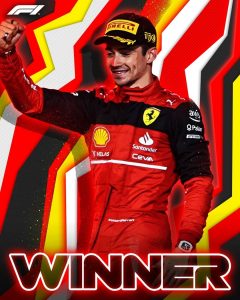 Redbull's Max Verstappen pulled over to the side of the track with an engine issue on lap 39/58 leaving the race leader with no competition. This is his second Did Not Finish (DNF) since the season began. Carlos Sainz, the other Ferrari driver, having qualified in ninth place after a tough qualifying session,opted to use hard tyres which cost him five places then later  retired as his car spun on lap 2 into the gravel at the exit of turn ten. Aston Martin's Sebastian Vettel made his return to the grid this season but his race was brought to an abrupt end with a disappointing crash on lap 23. The German missed the opening two races of the season in Bahrain and Saudi Arabia after testing positive for Covid-19.
Alex Albon had an amazing drive as he pitted on the final lap having done the whole race on hard tyres. He took the final point after stating from last.
Results leave Mercedes having taken the most points from Melbourne and Ferrari still in the Lead of the constuctors standings. The next race is on 24th April at the Imola circuit for the Emilia Romagna Grand Prix.